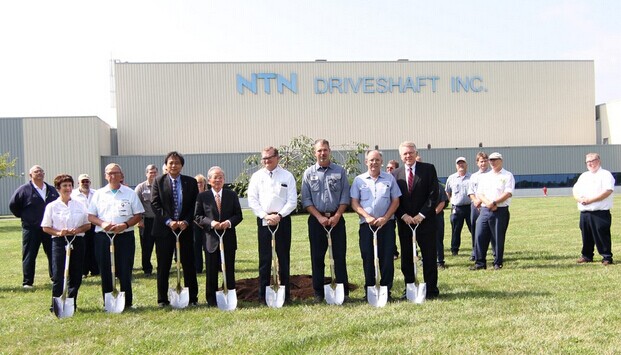 Resource from: The Republic 15 Jul, 2016
When NTN Driveshaft announced plans in 1989 to open a plant in Columbus, the Japan-based manufacturer promised to employ at least 250 workers by 1991 by spending $97 million on a new facility — a monumental investment at that time.
Now 25 years later, the automobile parts manufacturer's Columbus plant has grown into its largest facility outside of its home country, employing about 1,700 workers, making it the second largest employer in Bartholomew County, behind Cummins Inc.
About 25 of those workers have been with NTN since it first opened its doors in Columbus, and on Tuesday they came together with city leaders and top company officials to celebrate their milestone work anniversary.
"It went fast," said Jim Miracle, an NTN production manager who is one of the 25-year employees.
Miracle, along with several of his co-workers, Columbus Mayor Jim Lienhoop, city council members and other local leaders and Yasunobu Suzuki, former NTN president and CEO, all gathered on the lawn of the Columbus plant Tuesday morning to plant a tree in honor the company's 25th anniversary in the city.
Lienhoop thanked Suzuki for choosing Columbus to set up a new branch of his international company in a small manufacturing city 25 years ago, and for having enough faith in Columbus to invest nearly $100 million into the local operation.
"That would be a big investment now, so back then it was a mega investment," said Jason Hester, executive director of the Columbus Economic Development Board.
Hester said NTN has continued to show its dedication to the Columbus plant through 11 expansions that have invested approximately $500 million back into Columbus.
Barry Parkhurst, NTN vice president of administration, said he thinks the reason the manufacturer has stayed in Columbus so long is because the city offers several important benefits, including access to Interstate 65, well-developed infrastructure and the ability for employees to enjoy both urban and rural lifestyles.
But more importantly, Parkhurst said a core group employees have kept the Columbus operations running smoothly.
Miracle described his 25 years with NTN as a roller coaster, especially in terms of economic trends and the ups and downs of automobile markets.
Despite the economic uncertainties that potentially cast a shadow over any automotive job, Miracle said he stuck with NTN because he believed it was a good company that would support him.
Kathy Worton, who has done human resources work for NTN during the past 25 years, said growth of the company from 250 employees in 1991 to 1,700 today has been the biggest change she has seen. As more workers have been added to the company's roster — adding to her human resources duties — Worton said she chose to stay on because of the excellent benefits the manufacturer offers.
That level of dedication and belief in the automobile parts manufacturer has been the strength of the NTN Columbus plant for the past 25 years, Parkhurst said.
"They're dedicated to this company, and they're proud to work for us," he said.
Parkhurst said he doesn't see much more expansion in the Columbus plant's future because the local operation has already reached its production capacity.
Instead, Parkhurst said the manufacturer will continue working at its current production level.
Each month, the Columbus plant manufactures about 700,000 constant vehicle joints — which enable front-wheel-drive capabilities — and 250,000 propeller shafts while generating about $500 million in monthly sales.
Looking back over the journey it took to get the local NTN plant to that production level, Worton said she is in awe of the company's ability to maintain its success over a quarter of a century.
"It's an accomplishment," she said.
(The Republic)