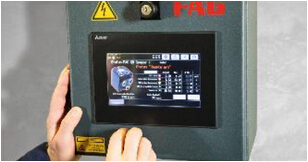 Schaeffler has developed the FAG SmartQB, a stand alone, ready to use monitoring solution for electric motors, pumps, fans, and rolling bearings.
The early warning system comprises a FAG SmartQB sensor unit, a cubic housing with a touch panel, and a cable for power and data transmission.
Five causes of faults can be identified and displayed using the condition monitoring system: bearing damage, imbalance, friction/cavitation (for centrifugal pumps), temperature increases, and all general changes in vibration patterns that cannot be clearly attributed to one of the aforementioned causes that require additional analysis.
Due to this automatic fault assessment, the system can be operated by maintenance personnel without any knowledge of vibration technology. It enables users to immediately initiate maintenance work and order replacement parts where required.
When starting the system for the first time, the user selects one of the 16 languages and, if required, replaces the pre-set standard contact details of Schaeffler's technical support with their details. After selecting the component on which the FAG SmartQB sensor is located (motor, pump, or fan), specifying whether the machine operates at constant or variable speed, and entering the individual name of the assembly, the sensor automatically selects the best measurement configuration. The system is immediately ready for the automatic learning mode.
A total of six FAG SmartQB sensors can be located on a housing and allocated to individual assemblies as required. The sensors can also be added using the display in the same way as during initial installation. After initial operation, the system displays relevant information, such as an operating hours counter, fault frequency, maximum values, average values, trend curves, and the alarm status of each individual sensor.
In case of an alarm due to a change in vibration signals that cannot be attributed, the system makes a recommendation to maintenance personnel via the display to send the measurement data to Schaeffler's technical support, for instance, for a more in-depth analysis.
(SafeToWork)